About Neutron Therapy
Research Center (NTRC)
Working with
international organizations,
we will establish the standard
protocol for BNCT.
NTRC was established to develop new approaches to BNCT. Our scientists select and provide customized boron agents for treating specific types of cancer.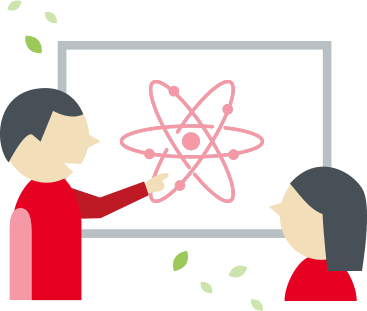 Outlines of NTRC
NTRC of Okayama University was inaugurated in 2017 under the governmental support by Ministry of Education, Culture, Sports, Science and Technology (MEXT) and Kagamino-cho town. We aim to realize our three missions with five divisions.
Our missions
Development of new boron agents
Formulation of international guideline of BNCT
Support for developing a new accelerator-based neutron generator
NTRC five divisions and our partners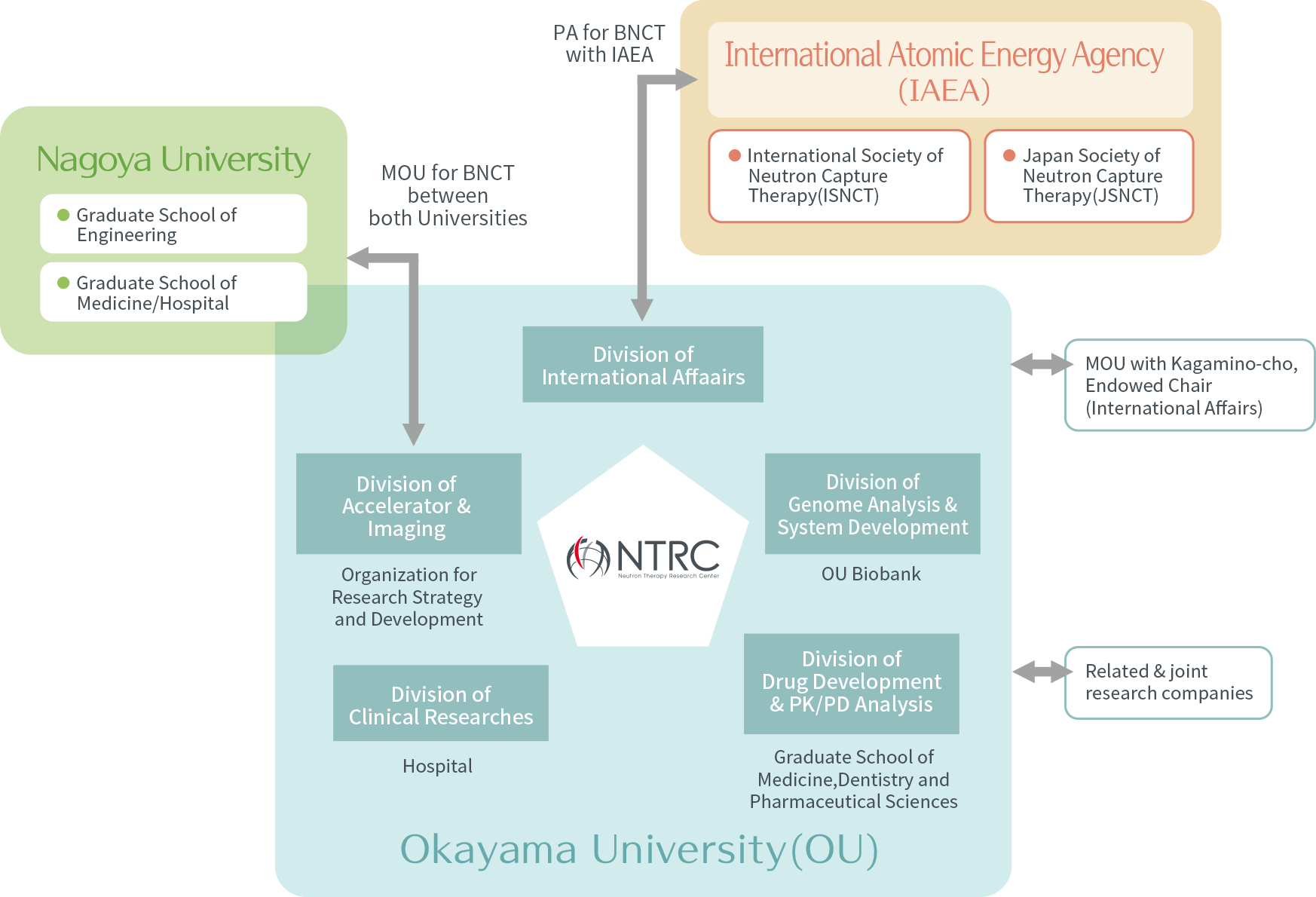 MOU:Memorandum of Understanding
PA: Practical Arrangements
History of NTRC
2015 Feb
Signed Memorandum of Understanding (MOU) between Okayama University, Kagamino-cho and Japan Atomic Energy Agency (JAEA).
2015 Mar
Co-hosted the first international symposium with IAEA at Kagamino-cho.
2016 Mar
Co-hosted the second international symposium with IAEA at Kagamino-cho.
2016 Oct
Signed Practical Arrangements (PA) between IAEA and Okayama University on Cooperation in the Area of Research and Higher Education in Boron Neutron Capture Therapy.
2017 Apr
NTRC inaugurated.
2017 Apr
Division of International Affairs setup under Endowed Chair of Kagamino-cho
2017 Sep
Signed MOU between Nagoya University and Okayama University
2017 Dec
Held the First Symposium of NTRC
2017 Dec
Signed MOU between Okayama University and Osaka Prefecture University
2018 Feb
Okayama University Hospital was assigned as Center for Comprehensive Genomic Medicine by the Ministry of Health, Labor and Welfare (MHLW)
2018 Oct
Started Pharmaceutical Affairs Consultation on R&D Strategy for the new boron drug with the Pharmaceuticals and Medical Devices Agency (PMDA)
2018 Nov
Confirmed onset of a neutron beam by the accelerator-based neutron generator at Nagoya University
2018 Nov
Signed research Agreement with 3-D Matrix Ltd.
2018 Dec
Held the Second Symposium of NTRC
2018 Dec
Started cellular experiments with the neutron generator at Nagoya University.
2019 Dec
Signed Joint Research Agreement for New Boron Agency with Niigata University of Pharmacy and Applied Life Sciences
2019 Apr
Restructure of NTRC
2019 May
Started

in vitro

experiments of the new boron agency by the neutron generator at Nagoya University.
2019 Jun
Signed the extension of MOU with Nagoya University
2019 Jul
Patented the new drug, OKD-001
2019 Oct
Promoted investments for OKD-001.
2019 Dec
Held the Third Symposium of NTRC
2020 Jun
Renewed the Practical Arrangements (PA) with IAEA
ACCESS
Neutron Therapy Research Center
OKAYAMA UNIVERSITY
Shikata campus
2-5-1 Shikata-cho, Kita-ku,
Okayama 700-8558 JAPAN